| | | | | |
| --- | --- | --- | --- | --- |
| [ | mood | | | reflective (again) | ] |
Now that I have apologized to Live Journal, I don't feel quite so awkward dusting the cobwebs off of my Live Journal client and adding a bit of mess to these entries.

Almost a year ago, I was panicked, overwhelmed, excited, tense, (a bit bitchy), but also a little bit cute.

Well, in this almost-year, not much has changed.

I am coming to yet another crossroads in my life.

On this gorgeous Sunday, I am sitting on a lawn chair on my porch, looking into the clouds and clover (they grow in patches where the grass should be) for the answers to all of the questions that keep flinging themselves into my brain when I try to sleep at night.

I have become grossly aware of certain key words that have introduced themselves into my subconcious. These words include "stability", "salary", "benefits" and the all-so-important phrase "Oh-my-God-what-the-hell-am-I-going-to-do-with-my-life!!!!"

* Note to any readers who may still browse through the haunted halls of my Live Journal: The above hyphenated phrase is meant to be read by throwing all of the included words out of one's mouth at one time while attempting to maintain regular breathing so as to not hyperventilate and to (at least on the exterior) maintain normality for any potential onlookers.

So, here are some things going on in my life now:

I have less than 60 days left in my promised year of service (read: indentured servanthood) to Algonquin Books. I now have more than an internship to offer my potential employers; I have an actual semblance of a real-live job where I work in publishing.

(Sidenote: there are both a hawk and a helicopter in the sky right now and from my perch, they look like they are both the same size! Let's give a shout-out to dimensons and perspective, shall we?)

Back to my ramblings:

So, where I want to be right now, is living in a slightly ramshackle, but still charming, apartment in Charleston, doing some sort of writing in some form. I'm not picky...I'll do anything, save for writing pharmaceutical catalogs...but for Charleston, even that doesn't sound half-bad. I have an interview with Skirt! magazine on April 4th (at 10am if y'all want to send me good vibes at that time) and I hope it goes well, but I am not trying to put all of my eggs in one basket or any of those choice old country phrases that everyone's grandma says with a short of wobbly-chinned head shake.

There is also New York. While it is chock-full of possibility, it is cold, expensive, and rather far away from my family unit and others important to me. The other large concern is that EVERYONE who does any sort of publishing wants to live/work/starve in New York. So each time I submit a resume to a job opening, I am reminded that 40,000 others have just hit send at almost the exact instant as me. It's an alarming feeling that I am not comfortable with. I don't love to share.

So, on that note, if anyone knows of potential jobs in the Charlotte, Chapel Hill, Charleston (I am in love with towns that begin with "Ch") or New York, please give me a holler. Or just give me the job. That would also be more than acceptable.

In other news, I got my hair cut yesterday.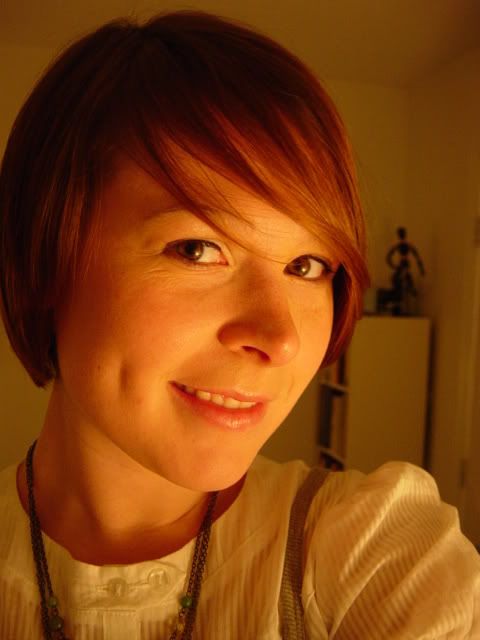 Thanks, Pauly!

I promise, promise, promise, that I will use this Live Journal for more than just rambling and venting.

Here are things I am looking forward to:

March 30th: John Jorgenson at Carrboro ArtsCenter (Chandler may or may not be home for this, so if anyone likes gypsy jazz, give me a holler)
Sometime between the end of March and the beginning of April: Chandler coming home from tour
April 3rd: Charleston with Chandler for days and days...
April 4th: Job interview with Skirt!

Hopefully the above list will grow and grow.

edit: It's already growing! It's vague but fabulous Will Gilreath's mother works with the Charleston Post & Courier and we're going to meet about a position!